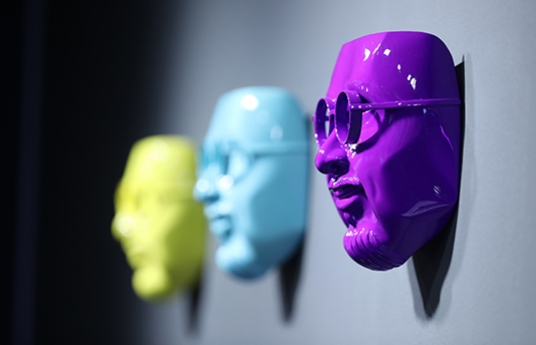 Artworks include explorations on freedom of speech by Ghada Al Khater and the Jamal Khoshaggi incident by Abdulaziz Yousef
Works by 12 promising filmmakers and artists from Qatar showcased at special community art event as part of Ajyal Film Festival
Doha, Qatar; November 30, 2018: The Qatari art community says [RE]ACTION, the special showcase of works by 12 filmmakers and artists from the country, as part of the sixth Ajyal Film Festival in Katara Cultural Village is a creative interpretation of the nation's spirit of resilience and adaptability to respond to even the most testing challenges.
Highlighting the power of art in driving dialogue and on reflecting on the community's response to events that shape our world, [RE]ACTION opened on Thursday at Katara Building 19. For many spectators, the interactive art showcase offered many a cathartic moment as they were reminded of the spirit of solidarity that led the nation to rise above adversity.
Interacting with the artists, Fatma Hassan Alremaihi, Festival Director and Chief Executive Officer of the Doha Film Institute, said: "These works are not an emotional response to the challenges faced by the nation, but passionate, well-thought out ones that open a window into how the situation inspired Qatar's community to respond in meaningful ways. Powerful art has always co-existed with significant changes and inspired the community to look ahead with hope, self-pride and confidence. [RE]ACTION documents a significant period in contemporary history of our nation."
Maryam Al Homaid, an artist and professor, who collaborated with Levi Hammett, for 'The People Mashrabiya', said their work draws on the traditional Mashrabiya used in living rooms to segregate men from women. It highlights that the very notion of 'separation' driven by the blockade is being countered through the unity of the people of Qatar. Painstakingly created over one and a half years, it is created from over 2,000 pieces – each standing for the multicultural population of Qatar – and designed to depict the diversity. The work represents how the people of the country came together to demonstrate the nation's spirit of resilience.
The imposing oil on canvas titled 'The Myth of Unity' is by Ahmed Al Jufairi, who created it in three weeks working 'without sleep and food'. Ahmed says through his work he wanted to underline the struggles of the people. His work is rich in symbolism, and has strong political overtones that will urge people to think. Among the powerful ideas that the artwork presents is that "your cannot erase a part of history to create your own; that is not education or knowledge," he says.
There are several compelling works by contributing artists including: Abdulaziz Yousef, May Al Mannai, Waheed Khan, Ammar Al Qammash, Rashid Al Kuwari, Khalifa Al Thani, Kholood Al Ali, Ghada Al Khater and Fatma Mousa. Held daily from 10 AM to 10 PM through December 3 and on Nov. 30 from 2 to 10 PM, [RE]ACTION is open for free to the public.
2018 Ajyal Film Festival's Official Partners include: Katara Cultural Village – Cultural Partner; Ooredoo – Principal Partner; Novo Cinemas – Strategic Partner and St. Regis Doha – Signature Sponsor.