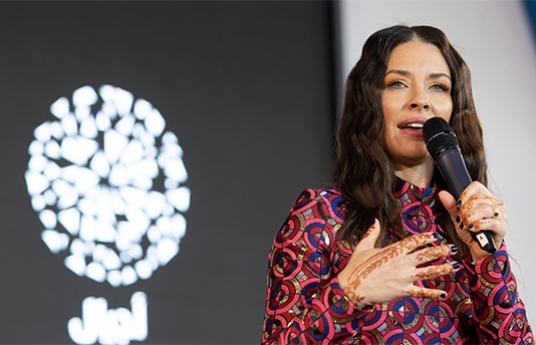 Doha, Qatar; December 1, 2018: The sixth Ajyal Film Festival, the annual cinema event hosted by the Doha Film Institute at Katara Cultural Village, continues to drive dialogue between international film talents and young filmmakers, with Ant-Man and the Wasp star Evangeline Lilly and Karim Aïnouz, the director of Central Airport THF (Germany, France, Brazil/2018), among others, to interact with audiences and media.
A guest of honour at Ajyal Film Festival, Evangeline was down-to-earth and endearing to fans. Reflecting her own outlook towards life, she said: "I always try to demystify the idea of glamour and show the real person. We are all the same."
Evangeline said that being friendly, "helped me get jobs. Nobody likes a snob; directors and producer want someone they like to work with. Further, it helps me to create my characters because I meet and interact with so many people from different walks of life and cultures. There is nobody i wouldn't say hello to. To be a good actor, you have to know people."
She revealed that she will appear in a new series soon without divulging more details. She said: "Television was an incredible commitment. But that said, there is a TV show on the horizon. The reason why I finally decided to go back to television is because I now have two children and the life of an actor is like the life of a gypsy, and very difficult on family. I was looking for some stability."
Evangeline said the opportunity to interact with Ajyal Jurors was incredible. "I love the opportunity to speak to kids and love answering their questions. But there is always a small part of me that is frustrated. Because more than answering their questions, I want to ask them questions, especially here because I know little of the Middle East. The most fascinating thing is how [the Ajyal Jurors] are into the film industry. I didn't know there was a film industry in Qatar before I was invited to Qatar.
Screening at Ajyal Film Festival, Central Airport THF was the winner of the Amnesty International Film Prize at the Berlin International Film Festival 2018. Director Karim Aïnouz said it was important for him to document a duration of at least one year for his film on Berlin's historic Tempelhof Airport, with its massive hangars now used as one of the largest emergency shelters in Germany for asylum seekers.
"It is an irony of history," said Karim, about how he zeroed in on the airport as the subject of his film. "The airport was built for fixing military airplanes and now it is a shelter. And I was disturbed by how the media was portraying the refugees, and I believed their story had to be presented humanely." He said the one-year duration of the film was deliberately chosen as he felt that period was important to the tell real story. "All I could see were reporters and photographers coming in and going out; that hardly helps in presenting their story," he added.
Karim said the film's response at Ajyal was overwhelming. "We had the best Q&A here with this movie; there were so many hands wanting to ask questions – and a lot of women; it was the most exciting and sophisticated Q&A I had done."
He said he plans to follow up with the film's central narrative every five years, adding that the refugee crisis is the biggest challenge being discussed in Europe. "We must look at how the German society interacts with the refugees rather than focus on how they can be integrated."
Karim said the film was well-received in Berlin. "I think the Germans really liked it; they were quite surprised it was not a film by a German. I hope it helped create an empathy and wish to help people who are arriving. To make a movie like this is great, yes, but it is really about helping people."
Central Airport THF will be screened again on Saturday (Dec. 1), 9:15 PM at Katara 12 Theatre A.
2018 Ajyal Film Festival's Official Partners include: Katara Cultural Village – Cultural Partner; Ooredoo – Principal Partner; Novo Cinemas – Strategic Partner and St. Regis Doha – Signature Sponsor.