5 Seasons of Revolution
Fall Grants 2017 - Post-Production Stage
Current project status: POST-PRODUCTION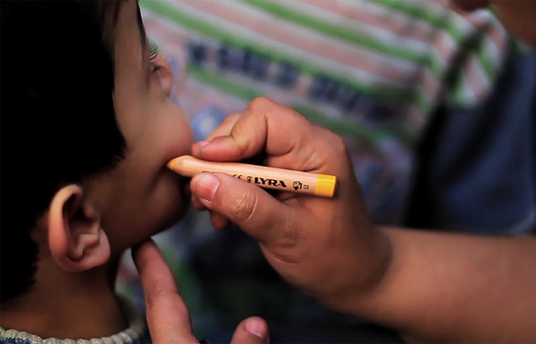 Synopsis
To support an armed struggle, to protest peacefully, to flee or to document events: these are the courses of action that lie before the protagonists of this film. Their divergent paths threaten to lead the women away from one another, and to change them irrevocably as individuals. What they choose to become in wartime will surely define them for the rest of their lives. The filmmaker takes us on a journey into the experience of four young Damascene women who were swept up in the excitement that came in the wake of the 2011 uprising in Syria, and began to rebuild their relationships with their country and to define their roles amid the ensuing conflict. Today, after all that has happened and is happening, the director looks back, reconstructing the experience she documented and sharing with us her quest for an aspired sense of reconciliation.
Credits
Director

Layla Abyad

Screenwriter

Layla Abyad

Producer

Orwa Nyrabia, Diana El Jeiroudi, Torstein Grude
About the Director
Born in Damascus 1983, Layla Abyad is a documentary filmmaker and journalist who has made short and medium-length documentaries. Her most recent short documentary, 'Letters to S', premiered in IDFA. She holds a Master's degree in Documentary Filmmaking from Essex University. A camerawoman, she has been documenting events in Jordan, Lebanon, Syria and Turkey over the past 10 years.
Production Company Profile
No Nation Films was founded in Berlin in 2014 by Orwa Nyrabia and Diana El Jeiroudi, to continue their previous work as 'Proaction Film', which they founded in Syria in 2002 and then in Egypt in 2013. Over the years, the company produced and co-produced award-winning films that have been released theatrically in France, Japan, Austria, Italy, Portugal, Spain and the UK, and screened in numerous festivals, including Cannes, Amsterdam, Busan, Locarno, London, New York, Sundance and Toronto. Their films have been broadcast worldwide on television and via premium VOD platforms. The work of No Nation Films has earned its team numerous awards, including the European Documentary Network Award 2012, the FIDADOC honorary award, the Katrin Cartlidge Award, the first ever George Polk Award for Documentary Film and the Human Rights Watch Nestor Almendros Award for Courage in Filmmaking.
Contacts