Watching the Classics
Watching the Classics: Session 9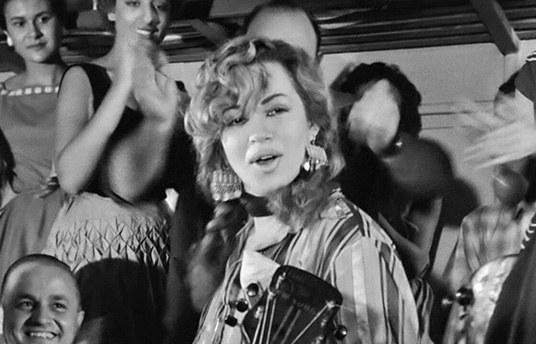 Start date:

Dec 07, 2022

Ability Level:

All Levels
A monthly lecture series with Professor Richard Peña
Doha Film Institute is delighted to present 'Watching the Classics', an online programme where filmmakers and cinephiles can deepen their knowledge of film history. Presented by renowned scholar Richard Peña—Professor of Film Studies at Columbia University and Director Emeritus of the New York Film Festival—this series of lectures/discussions each focuses on an undisputed world cinema classic.
In the monthly sessions, Professor Peña will present a given film within its aesthetic, economic, technological and social/political context, detailing each director's formal techniques while teasing out the implications of these artistic and technical decisions.
To get the most from the programme, participants are recommended to view the films before each session, and all are readily available through various popular streaming services. After registering, participants in Qatar may request an appointment to view the featured film at our offices by emailing training@dohafilminstitute.com.
During the lecture, select images and clips will be included for discussion, and participants will be able to send Professor Peña questions, which will be addressed at the end of each session.
Join us for this chance to revisit some of your favourite films—or to discover works that have helped change the course of film history.
Introduction by Professor Richard Peña
For many people, the period from about 1930 until the dawn of the 1960s was truly the golden age of cinema—the time when "movies were movies!". Powerful industries turned out dozens or even hundreds of films a year. Audiences were enormous: about 100 million Americans per week went to the movies in 1946.
Moreover, by the early 1930s, with the beginning of the era of sound cinema, a style emerged that, with some variations, came to dominate world film production, the so-called "classical narrative style" featuring linear stories, strong protagonists, and clear delineations of time and space relations. Yet, there were always challenges to that model, and increasingly filmmakers adapted new technologies and devised new aesthetic approaches that would eventually lead to the explosion of new forms of filmmaking in the 1960s and beyond.
In this expanded "Watching the Classics", we will have the chance to explore a wide-range series of international cinematic landmarks, exploring this idea of the "classical narrative" in several contexts. Topics to be explored each week include:
The transition to sound cinema.
The increasing role of governments in film production.
The impact of World War II.
The impact of notions of "realism" and "modernism" on filmmakers and audiences.
Each week will also include a detailed analysis of that week's selected film. The sessions will take place on the last Thursday of every month—except in March during Qumra and November during Ajyal. The films to be featured will be announced at the beginning of the month.
The ninth session takes place on 7 December, 2022 from 5:30 PM to 7:30 PM (Doha Time).
CAIRO STATION
Director: Youssef Chahine
Egypt / Egyptian Arabic / 1958 / 77 mins
Much as Mexico dominated the Spanish-language cinema, the Egyptian cinema was the cinematic centre of the Arab-language region. Needing to make a "one size fits all" cinema that would appeal to Arab speakers from Morocco to Iraq, the films generally featured standard, almost mythic stories—poor girl gets adopted into a rich family, or vice-versa—with a heavy helping of singing and dancing supplied by well-known stars from Radio Cairo. Yet breaking from this pattern was Youssef Chahine's 'Cairo Station'. Heavily influenced by both Italian Neorealism and American psychological thrillers, Chahine created a revealing portrait of a fast-changing Egypt, focusing on one day in the lives of the workers and travellers congregated around the capital's main train station. The presence of box office star Hind Rostom guaranteed the film would get financed, and she delivers a searing, unforgettable performance, matched only by Chahine's own portrayal of the crippled newspaper seller Qinawi.
Language: English
Fee: 70 QAR
Fee with our Qatar Museum's Culture Pass Discount (20%): 56 QAR
---
Eligibility
This programme is open to applicants over the age of 18. The sessions are best suited for those with some knowledge of filmmaking and who wish to expand their understanding of film history.
Registration Process:
To register and secure your place, purchase a ticket online to this event by clicking

HERE

.
Your registration will be confirmed once your payment is processed.
You will receive all necessary webinar links via email reminders before the sessions.
---
Richard Peña
Richard Peña was the Programme Director of the Film Society of Lincoln Center and the Director of the New York Film Festival from 1988 until 2012. At the Film Society, Peña organised retrospectives of many film artists, as well as major film series devoted to numerous national cinemas. Together with Unifrance, in 1995, he created Rendez-Vous with French Cinema, the leading American showcase for new French cinema. He is Professor of Film and Media Studies at Columbia University, where he specialises in film theory and international cinema and has served as a Visiting Professor at the Sorbonne, Beijing University, UNAM-Mexico City and the University of São Paulo. He also currently hosts WNET/Channel 13's weekly 'Reel 13'.
Thank you