2022
Podcast Lab - Online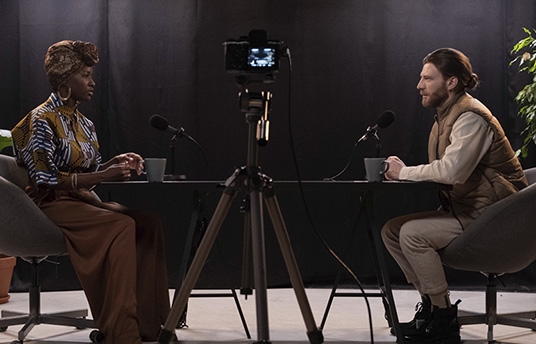 Start date:

Aug 29, 2022

Ability Level:

Intermediate to Advanced
Lab Overview & Structure
This fascinating programme will provide participants with the knowledge, resources, and mentor support for developing their project both creatively—through story development and sound editing workshops—and strategically, with discussions on industry landscape, pitching, marketing, and releasing their project in today's audio landscape.
In this course, participants will learn the basics of audio storytelling, the art of creating and producing distinctive audio podcasts. They will gain hands-on experience recording and editing with direction from industry experts. Participants will leave with an enriched understanding of the global podcasting landscape and its key players. They will receive invaluable tips on tools, funding models, audience development, distribution, and gain insights on how they will measure their success.
Dates: 29 August to 3 September 2022
Hours: Daily session of 4 hours (4 to 8 PM Doha time)
Language: English
Lab Fee: 1,100 QAR
Level: Beginner to Intermediate
Group Size: 6 projects will be selected with a maximum of two attendees per project
Deadline: 11 August
---
Lab Objectives
Participants will learn:
About the main global players in the podcast industry

Platforms like Apple, YouTube, Spotify, Google Podcast etc.

Their strengths and weaknesses for creators (especially metrics)
Their significance and role in the industry

International podcast networks like Deezer, Kerning Cultures, Sowt, etc.
All other podcasts.

To define their audience and podcast with a purpose
To write scripts, map narrative arcs, and generate immersive stories for audio
Planning, team roles, and workflow mapping
How to choose (and use) the right equipment for their podcast
Beginner sound editing
To record interviews and edit them

Interview prep
How to get great tape in your interview
The ethics of editing quotes

How to brand and market their podcasts
Business models
Options for distributing their podcast
How to pitch their podcast to the industry.
No previous podcasting or audio editing experience is required, and participants should arrive with some ideas about the
type of podcast they would like to make.
The Lab is open to serialized and story-driven audio project. Fiction, nonfiction, and hybrid style projects are
eligible, and projects can be either short-form or long-form series.
---
Eligibility
The workshop is designed for audio storytellers and producers or anyone interested in entering the Podcast Industry.
Participants must be from Qatar or the MENA region. A total of six to eight participants will be selected for the
workshop.
No previous podcasting or audio editing experience is required, but participants should arrive with strong ideas about
the type of podcast they would like to make.
The Lab is open to serialized and story-driven audio projects. Fiction, non-fiction, and hybrid style projects are
eligible, and projects can be either short-form or long-form series.
---
Who Can Apply?
Participants in later stages of development must have a pilot script, show trailer, or sample audio. Participants in early stages of development should have a comparable proof of concept detailing their ideas.
Participants must have a project presentation with essential information about their intended show, including potential hosts, guests, and topics. Serial narrative projects should detail their full narrative arc and all relevant backstory.
Long-format, short-format, limited series, in fiction and non-fiction are eligible.
---
Submission Requirements
Project information should be extensive enough to give reviewers the fullest idea possible of your audio project.
Project dossier, including:

Synopsis
Creator's note detailing intentions and goals
Visual concept or pitch deck, if applicable
Script and treatment, if applicable
Any preliminary topical research and a list of interviews, voice actors, or sources you have contacted or might approach to participate
Biography of the creative team and key crew members
Production company information
Supplementary materials as desired (audio trailer, etc.)

A letter outlining your motivation to participate in the lab, describing the project's current stage and its needs—and sample questions you would like to discuss in the workshop.
Link(s) to producer's previous work
Copy of passport or government-issued ID.
Please submit your materials before 11th August in Word or PDF format to training@dohafilminstitute.com including your full name, project title, email and phone contact in all text documents.
---
Course Overview
Day One: Foundations
Introductions

All participants: ideally, 6 teams maximum w/ two people per team able to join.
Lab producer: Alexandra Blair


Introduction to the Podcasting Landscape & Lingo

MENA

Podcasting Overview + Q&A
Day Two: North Star

Defining Your Audience
Identifying "top down" trends in your space
Guest: Global/Local trends in audio
Day Three: Storytelling

Audio Storytelling
Mapping a Narrative Arc
Guest: Audio storytelling
Day Four: Production

Equipment, Interview & Recording
Software & Editing
Day Five: Making it Work

Workflow Mapping
Money, Audience Development, and Measuring Success
Guest: Business development for audio projects in

MENA
Day Six: Talking About Your Project

Facing the Industry
Marketing and branding
Guest: marketing for audio
Lab Mentors
---
ALEXANDRA BLAIR
Project Manager at PRX
Lab Programme Producer
'Alexandra Blair is a Project Manager at PRX where she designs and delivers bespoke human-centered curriculum to support indie podcasters via the Google Podcasts creator program, the Journalism Podcast Accelerator, and countless other programs. Her work lives at the intersection of transformative problem solving, radical agility, and media's cutting edge. Her goal: to empower all creators to nimbly address 21st century demands with confidence and empathy'
---
Rhea Chedid
Senior Podcast Manager, Spotify
Lab Mentor
Rhea Chedid grew up between the US and Lebanon. To the dismay of her Lebanese father, she studied English Literature and Sociology, which equipped her with a love for storytelling and ultimately led her to become a full time content and podcast producer. She's produced over 12 podcasts, including Her Stage which was part of the Google Podcast creator program. Today Rhea is a Content Acquisition Manager for Amazon Music's podcast team. Before Amazon, she was in charge of podcasts for the Middle East at Deezer. In her spare time, Rhea enjoys writing, reading and toying around with other forms of content.
Guest Speakers
---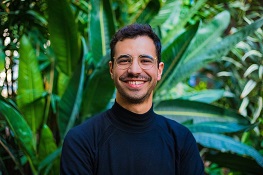 Al Shaibani
Podcast producer
Kerning Cultures Network
Al is a producer for branded projects at Kerning Cultures Network. With a background in film production, brand strategy, copywriting and event logistics, he is passionate about bringing a narrative to life in different formats. The thread that connects his diverse career (including many Netflix productions) is his drive to make "sticky" content: the type that lingers in your mind and lives in conversation. He enjoys storytelling, cycling, and an unhealthy amount of chocolate. Iraqi by birth, Canadian by education, Czech by blood, Swiss by upbringing, South African by adolescence, and Londoner by work experience, Al is currently based in London.
---
Simon Adler
Senior Producer
Radio Lab
Simon Adler is a Senior Producer at the Peabody Award winning podcast Radiolab, where he reports, produces and sound designs stories. His latest project, Mixtape, explored the world changing impacts of the humble cassette tape. In the world of podcasting, Radiolab is a famous program with a unique brand of storytelling that explores science, philosophy, and the human experience. It is downloaded more than 12 million times a month as a podcast.
---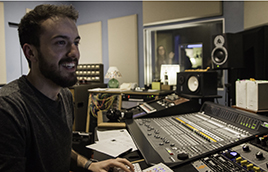 Kevin O'Connell
Audio engineer/producer
Kevin is a professional musician, audio engineer/producer, educator, and arts advocate with a focus in creative development, mentorship, and production. As an educator and arts advocate, he founded the West Suburban YMCA Center for the Creative Arts (YCCA) – a 360-degree youth music and media program serving youth and teens in the MetroWest suburbs of Boston. 
As an engineer and producer, he has worked with a number of local, regional and international artists and musicians including Grammy Recording Artist Alex Torres y Sú Orquestra.
As a musician, Kevin performs and records with Boston-based rock band Coral Moons, releasing their debut full-length LP 'Fieldcrest'. Kevin can be seen taking the stage with other New England artists including the Ballroom Thieves, Hawthorn, Kaiti Jones, and Tory Silver.
Formerly the Studio + Operations Manager at the PRX Podcast Garage in Allston, MA, Kevin has recently joined the team at Descript as a Product Specialist, working with and training audio teams around the world.
---
Ryan Dilley
Producer at Pushkin Industries
A journalist and audio producer, Ryan Dilley has created hit shows for Malcolm Gladwell's podcast company, Pushkin Industries. 'The Happiness Lab with Dr Laurie Santos' and 'Cautionary Tales' have attracted ten of millions of downloads since they debuted in 2019. Ryan has also made podcasts with the likes of Marc Maron, John Oliver, Alexis Ohanian, Elizabeth Banks and John Cleese; and advised clients including The British Council, Channel 4 Television and The Times of London.     
Ryan previously worked at the BBC, where he edited some of the corporation's biggest TV and radio news shows.
---
Ramsey Tesdell
CEO, Sowt Media
Ramsey G. Tesdell is the CEO and co-founder of Sowt.com, a leading digital audio media company producing high-quality and premium content focusing on Arabic-speaking audiences. He is also a founding partner of 7iber.com, a leading independent news magazine from Jordan.
Ramsey was selected as a fellow of the Ford Global Fellowship in 2021 and is an advisory board member to the Google/PRX Podcast Creators Program, and a judge for the Third Coast Audio Festival held in Chicago. Ramsey also spends time mentoring and working with new media startups and focuses specifically on media strategy and business development with ICFJ. Ramsey originally moved to Amman as a Rotary Ambassadorial Scholar. He has a B.S. in rhetoric and communication and an M.S. in technical communication. He lives in Amman with his partner and two children.
---
Michael Russo
Podcast Marketing Specialist
Previous to Mike's work in public radio marketing and podcast production he was a full-time professor at The University of Missouri – Columbia as a Marketing and Video Production lecturer in their Communication Studies Department. In addition Mike has over 10 years of experience working for various media organizations and holds a Master's Degree from The Rhode Island School of Design.  Currently Mike is the Director of Audience Development for KCUR 89.3 and Classical KC as well as the director of KCUR studios (The podcast development wing of KCUR 89.3). In Mike's freetime he is a podcast marketing] contractor doing work with international brands, B2B podcasts and culture podcasts.